The Grille on Congress has been doing it right for 20 years
Written by Marie Speed for Boca Magazine, September 2019 edition.
All roads may lead to Knoxville, Tennessee, for this story—or at least all roads that have a biscuit at the other end. We are thinking specifically about those enormous biscuits served at The Grille on Congress just as soon as you sit down. Heavy, crumbly, sturdy biscuits, biscuits that you want to at least slip into your purse, if not marry. 
But their lineage is a complicated one. Yes, this is a buttermilk drop biscuit, the kind served for Sunday dinners in the South, and the kind that became its own art form when White Lilly started making white winter wheat self-rising flour in Knoxville in 1983. Biscuits spun off in all manner of directions—cathead, flaky, light as a feather, melt-in-your-mouth. They finally found their way here, to The Grille on Congress, via a Word's Fair more than 30 years ago.
"This biscuit goes back to the L&N Fish Market at the 1982 World's Fair in Knoxville," says Suzie Donovan who, with her late husband Peter, owned Khaki's in Boca from 1995 to 2005 and The Grille on Congress since 1999. "That was its first location and where this biscuit was introduced. And then they built a second restaurant in Boca Town Center, and then it just took off from there. But those biscuits originated back at the World's Fair."
Peter was the first manager at L&N, and when he left with its executive chef, Alan Lamoureaux, to launch Khaki's, he took the biscuits with him. The biscuits eventually made their way to the Grille, where they have been happily served (more than 500 a day) to customers for the past 20 years.
"We have a recipe," Suzie says, "and everybody wants to know what it is, and Peter's line was always, 'I could tell you but then I'd have to kill you.'"


The old L&N biscuits mix might be in a play, and it might not. Suzie was steadfast in her unwillingness to share the wealth, but she did allow that a key to the biscuits' success had something to do with "the sugar factor" and with the "honey." That is all we know.
Peter Donovan died at age 61 in 2017; he and Susie would have been married for 34 years this past April. I have been eating this biscuit since the old L&N days, and I can't help thinking of Peter Donovan every time the tray comes around; I hope he knows we all love those biscuits, and that his secret is still safe.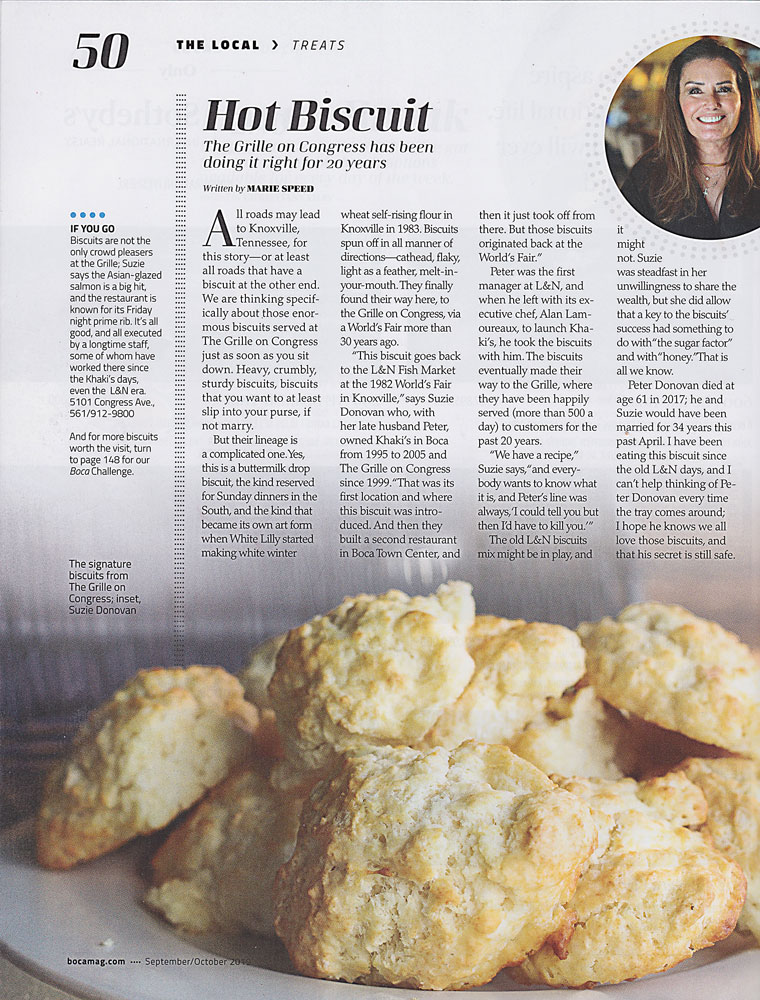 https://thegrilleoncongress.com/wp-content/uploads/2019/09/bocamag_cover_0919.jpg
1000
828
thegrille
https://thegrilleoncongress.com/wp-content/uploads/2019/06/GOC-logo-01-300x132.png
thegrille
2019-09-03 16:38:55
2019-09-03 17:26:40
Hot Biscuit