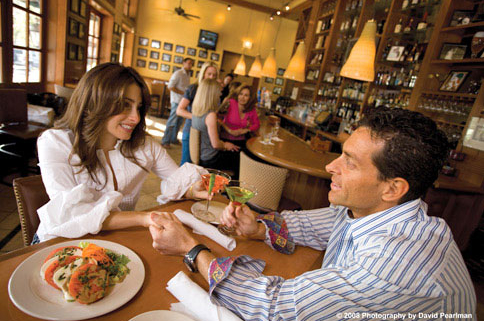 The Best Power-lunch in Boca
Selecting the right power lunch venue can be an important part of sealing the deal.
From The Boca Raton Observer 2008 – The precise moment Christian Boswell steps inside The Grille on Congress, owner Peter Donovan welcomes the advertising executive and escorts him to his table of choice.
Before any request is made, Boswell has a beverage. The waiter servicing Boswell's table understands the strict protocol during lunch service. The Grille on Congress does 250 seatings for lunch, Monday through Friday. It's imperative to pick up on every point of service, including what possible menu options boswell is likely to consider. This long-standing business model ensures that busy restaurants stay busy, even in Boca's off-season.
Boswell is what those in the industry call a regular. He hosts business meetings with colleagues and clients at least once a week at The Grille on Congress. It's not so much the proximity to his office that keeps Boswell returning; when it comes to power lunching, there's a fine line between seamless, non-obtrusive service and hurried order taking.
"They just get the whole power lunch concept," says Boswell, who appreciates that servers give him space when his iPhone comes out for presentations. "It's a nice business strategy when it looks like people know you and you're getting that extra care."
https://thegrilleoncongress.com/wp-content/uploads/2019/06/grille_lunch.jpg
323
484
thegrille
https://thegrilleoncongress.com/wp-content/uploads/2019/06/GOC-logo-01-300x132.png
thegrille
2008-07-09 22:13:04
2019-07-20 17:54:32
The Best Power-lunch in Boca